Bio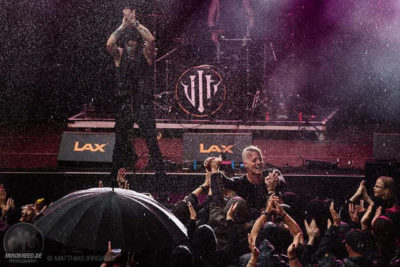 VIT – BIOGRAPHY – 2023 – RELAPSE
VLAD IN TEARS was reborn after decades when the three brothers Kris (vocals & piano), Lex (guitar), and Dario (bass) decided to move from the old and too sunny Italy to Germany in 2013. The brothers immediately showed their great musical skills and their ability to be great live performers. This development was well received by their rapidly growing fan base.
After releasing their first three records including UNDERSKIN, which was produced by John Fryer (Depeche Mode, HIM, Nine Inch Nails), the band released their self titeled next album containing the hit single "Feed On Me".
Following that release, VLAD IN TEARS played a lot of festivals such as M'era Luna, Rock Harz and Castle Rock as well as appearances outside of Germany, followed by a tour with The 69 Eyes.
After that season, VLAD IN TEARS released two more studio albums and kept touring.
In 2020 they released their next album DEAD STORIES OF FORSAKEN LOVERS from which they released as a first single "Born Again" in collaboration with Lex from "Megaherz".
In 2020 the band also released THEATRE OF MEMORIES ACT I which was the first part of an acoustic trilogy.
The next big step in VLAD IN TEARS' career was the album PORPORA which was released in 2022 through Metalville Records – including their outstanding cover of Kate Bush's RUNNING UP THAT HILL.
In 2023 the band spent the whole summer working on RELAPSE. Their ninth studio album might be the most rockish and most personal they ever made. RELAPSE will be released in March 2024 right before VLAD IN TEARS will be off for another tour with Heldmaschine.
#staytuned || #stayvlad